Victoria Johnson
"I'll never draw an outline or sketch beforehand"
Victoria now lives in Rome, Italy. We can easily understand the decision with her having a thing for color, patterns, texture and with the Italian scenery being an inspiration well. All that results in her bringing amazing colorful creations into life. You don't have to go to well hidden places for some bird watching, you can experience it right there on Lake; she is the one to take you on a bird mission! Join this confident artist on her journey so far. ❤
What is it like living in the Italian capital?
I love living in Rome. From our house we have access to the historical part of the city, a beach and a pine forest - and within an hour's drive we can reach snowy mountain tops or incredible countryside. Obviously, the food is exceptional too. There are shortcomings about life in Italy - one example is poor public funding - but I'm very happy here and want to stay - which is why we bought a lovely house to renovate.
When we first reached out you were in the middle of renovating your new home, which now seems to be neatly done!
We moved into our new home this May and spent the Summer adding the last pieces. There's been a revolving door of workmen since we've been here, installing stairs, mosquito nets, a veranda and other little bits - so we're not quite settled yet. They're putting down a new lawn in the next few days which means the garden will stop looking like a building site. I can't wait. I'm enjoying sitting down in a new, organised studio every morning. I've filled the house with plants and am learning to keep them alive (for the most part) but I've yet to add the pictures and final touches. I have a lot of empty frames hanging around, waiting for photos and artwork to be printed. The weather here has cooled down and the kids are back at school so I'm hoping for a very productive few months.
Your name hints that there may not be Italian blood running through your veins?
I'm English - with American citizenship too. My husband is Italian.
Which of the countries you have lived in was most suitable for you as an artist?
I think my years spent in New York probably had the most influence on my design career. I was surrounded by creative people working in the same field. Our studio was in Midtown Manhattan and obviously New York City is a very inspirational place to be.
"Cohesiveness, harmonious colour, a common thread that links all my work - these are all important to me."
Living in the digital era, does it still matter where you are located?
No. I can build relationships with clients no matter where I am. This is a wonderful development in the field of design.
How long have you been making a living as a visual artist? Could you say it's a fulfillment of your childhood dream?
I always imagined myself doing something artistic for a living. I've been designing for twenty years but before that I worked as a scenery painter, a window dresser, a portrait artist - always something artistic or creative. I'm often thinking about how to evolve my business. I'd like to focus more on home-decor related design. I can test my ideas in my new home!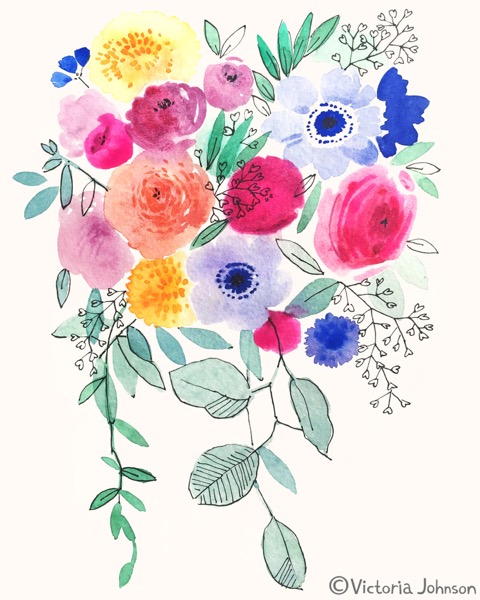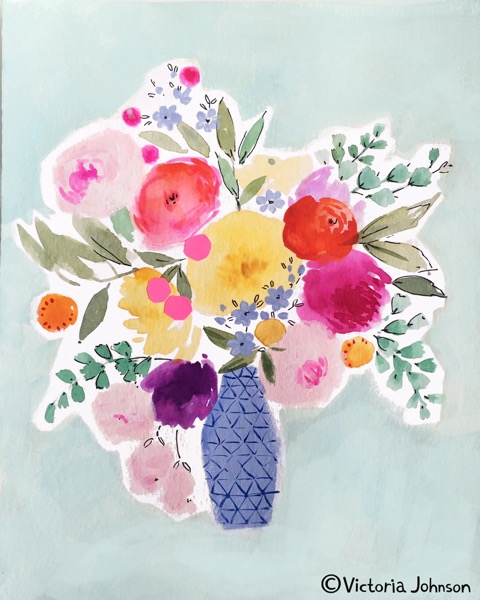 Were you born with talent for art or did you learn your passion later in life?
It sounds pretentious but it really always was a part of who I am and how I identified myself - the person who can draw/is artistic. My mom is very creative. She definitely encouraged me by providing limitless art supplies.
Could you describe your creative process?
I like to explore a lot, try new materials, play with layers and texture, then let the outcome determine the finished piece. I also like spontaneity. I'm not much of a planner. I'll never draw an outline or sketch beforehand. If something is going pear-shaped I like to push through and make it work and I think that by doing that I get interesting and unexpected results. But I'm also very organised and logical. I enjoy creating groups of related pieces - collections. Cohesiveness, harmonious colour, a common thread that links all my work - these are all important to me.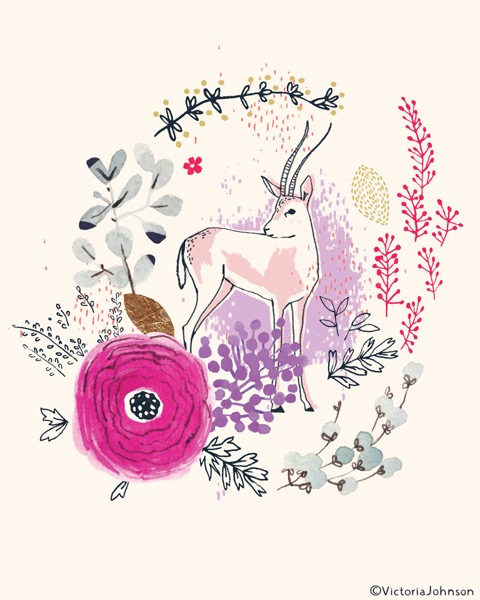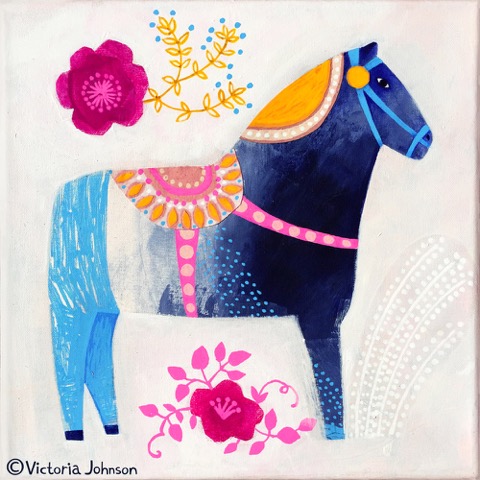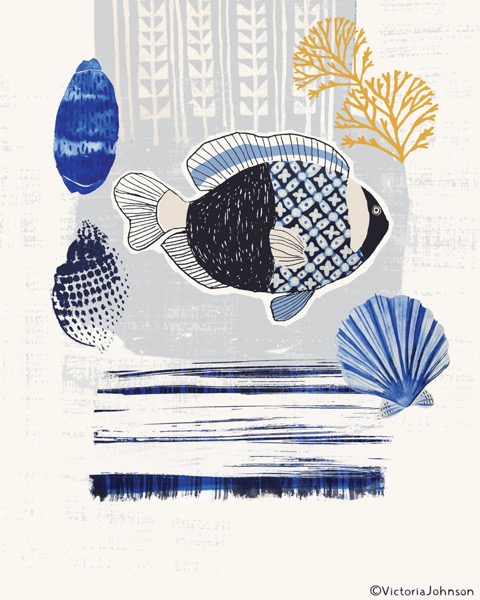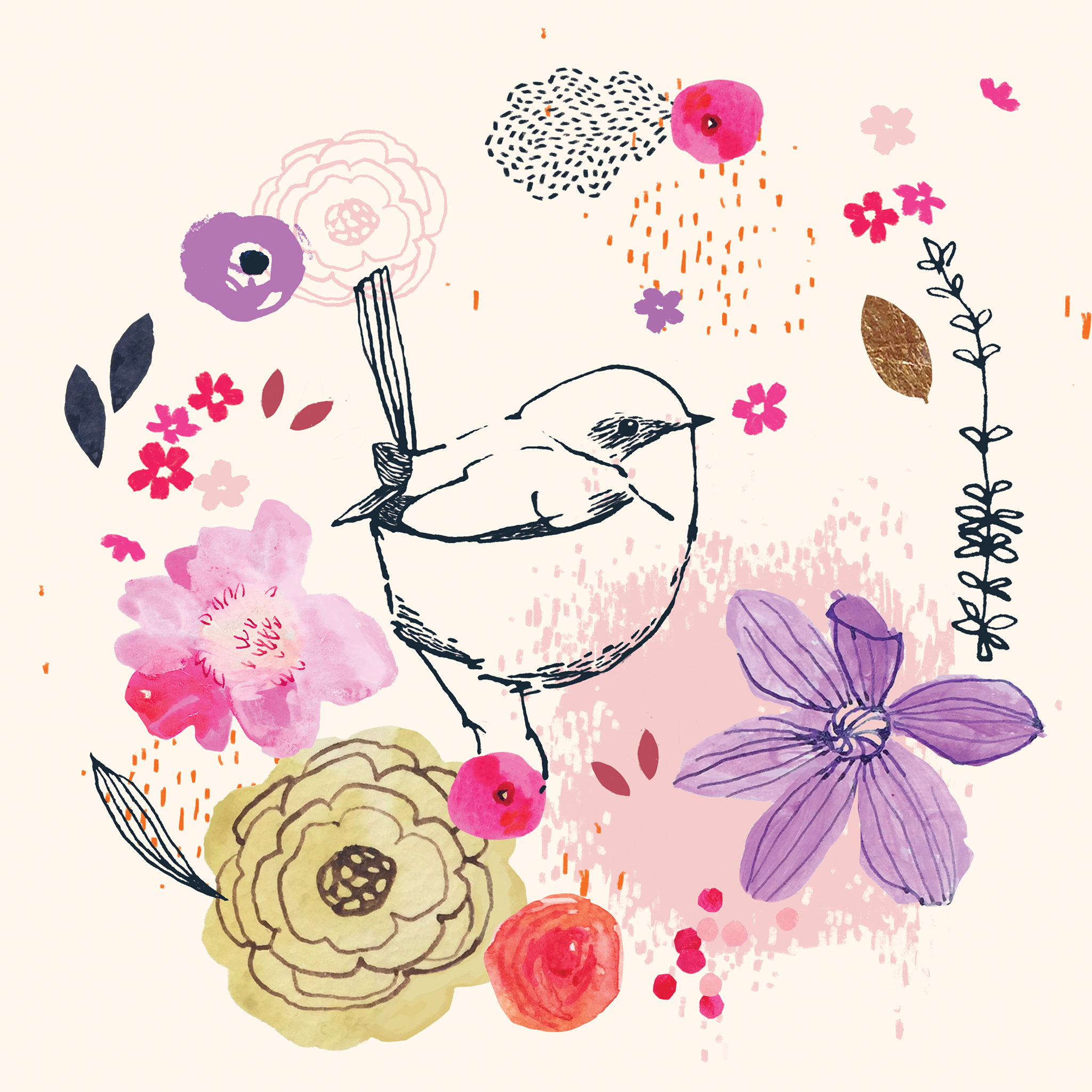 How do you balance working and free time on top of being a mother?
I have kids so my day revolves around theirs. I try to be working by 9.30am then continue until 3.45pm. I haven't allowed myself much free time in the last few years. I've tried to be disciplined, as if I've worked in an office. I want to change that. Take more time to leave the house, see friends, get some exercise. I know these things are important but I wake up every morning and think WORK!! I need a better balance as I'm alone too much.
You have been working with various well known clients, such as WHSmith, Land of Nod, Hallmark, TAG, to name just a few. How does an artist get to a point where big brands want to work with them?
I knew how to reach clients when I started my business under my own name as I used to own a design studio. I know that showing new work often is vital if you hope to catch their attention. Once you've made contact and managed to work with them once, it's a matter of maintaining the relationship by continuing to show new work. I think my best/most long-standing clients know they can depend on me for a certain type of artwork and when they need that, my name pops into their head and they contact me. This is where branding becomes important.
I've been thrilled to see my Christmas artwork on a lovely tabletop collection with TAG. I have some limited edition art prints with Minted that are doing really well, featuring a selection of my birds! I've also been working on a new fabric collection with Windham. In addition to that I've licensed lots of florals and worked on a few projects with card companies.
Artist's block. How do you deal with it?
I don't get artists' block. There are always too many ideas and not enough time. I got 'artists' fatigue' (think I just made that up) recently but that was to do with having too much to do with our house renovation and being unable to spread myself thin. I keep a rolling notebook of ideas. Some get tackled. Others don't. Often one idea spawns another.
How important is social media to you?
Extremely. I can't emphasise enough the importance of Instagram for an artist. When I give artist consultations, I look at an IG account as the most accurate depiction of the artist - what interests them, what they're doing, how serious/disciplined they are. A lot of clients follow me on there.
How has Instagram affected your business?
I think a client can tell a lot from a vibrant, lively, well-maintained, heavily-followed IG feed. It definitely impacts their impression of you and encourages them to want to work with you. I've received a lot of interest through my IG account and know that it can be a deciding factor when a client is deciding who to work with.
Emotion you want to evoke in people with your art?
For my art on Lake? Satisfaction and contentment - that feeling when you try something new and it looks right and beautiful.
We are very happy to have you as one of the first 10 artists featured on Lake. What made you go with us, even if we had nothing to show when we first approached you?
I liked the idea of having my work featured on an app. I liked the format - 12 simple line drawings that go together. And I loved the digital aspect of the colouring in. It allows the artist to be more free with the linear drawing and not create such perfectly contained spaces.
Who is Lake for?
I think it's for creative women who love and value art and colour and appreciate the possibility of exploring their own creativity in a fun, low risk, nothing at stake way. Fear of making mistakes often stops people exploring. It's fantastic for trying out colour palettes and there's potential for creating enormous variety from a simple black and white drawing.
Any final thoughts for those who are also trying to make their way as an artist?
Well - it's a hackneyed response - but I would say - just show up. Create a piece of your business EVERY SINGLE day. It won't happen otherwise. It's a slow building process and each block is different - the artwork itself, the social media presence, the client relationships - product, marketing, salesmanship. You have to do it all and you need to invest the time everyday.
Intrigued to know more about Victoria? We got you covered.