Formation of a certain Lake

The moment we have all been working for for the past 12 months is here. We are proudly introducing Lake, an iOS coloring app that serves as a marketplace for Instagram's finest illustrators.
Ever found yourself scrolling through your Instagram feed falling head over heels in love with inspiring illustrations? Ever gave heart after heart after heart to a beloved artist? Ever wished you could make that artwork a little bit your own? Now you can do all that with Lake. Download it on the [App Store] (https://itunes.apple.com/app/apple-store/id1183717726?mt=8).
On Lake you are currently going to find coloring books by 10 talented artists and Lakes' One a day gratitude pack that comes with 60 free drawings. Each artist has their own profile with a short bio, 12 drawings and each puts together a 9 shade color palette. Once you start coloring you can do so by choosing colors from that palette and combine them with numerous colors from our unique color wheel. Your masterpiece will come to life with the help of 5 tools of different texture. The best thing about this? You can make motives from your favorite artists a little bit your own. As Maja Säfström, one of the illustrators, says: "Our drawings come to life with colors and it's great to see how they get their own personalities through that!"
There is another important fact about Lake. It is an ever-growing support platform for artists. Whenever you make a purchase on Lake, either to buy an artist's coloring book or to subscribe to unlock everything, you always support the artists. Illustrators will be receiving a paycheck every month, depending on how much they sell plus how popular their drawings are on Lake.
How it started
Lake is a team of 5 people. We come from different projects, but we have all been working on various mobile apps for the past 5 years. The most successful app coming from us is the Toonia Colorbook. As the name implies, it's a coloring book for children, and as people from the industry can tell you: apps for kids are a tough market. Without any significant marketing budget/partnership it would be really hard for us to reach beyond the point we were at, that was clear. This made us rethink our position on the market and our future path.
With coloring being rediscovered, along with not being so sure in which way to move further in the kids category, we started playing with an idea of creating a coloring app for adults.
Let's do this
So we had a sit-down. We scoured the App Store for various coloring books for adults and downloaded a whole bunch. The mission was to see what is out there, who are the big boys, what are they good at, where do we believe they fail and most importantly: is there space for another coloring book and, most importantly, are we capable of creating one that will stand out? We've played with the selected coloring apps and had another talk. Each of us came to that meeting equipped with notes, suggestions and ideas, and they were all going in the same direction. A decision was made: we were destined to bring some fresh air into the coloring market!
We agreed that people should have a choice. We agreed that coloring pages can be more than just some lines nicely glued together, that they could be someone's unique expressions. And we figured we could do that. That we could provide a service (not just an app) with outstanding content, a simple yet efficient user experience, and growth potential integrated in the app's DNA.
Collaboration with illustrators people love
There was a whole lot of "why not's" hovering above our heads. Why not provide illustrations that were created with passion? Why not use the artwork that is already out there and is loved? Why not invite the illustrators to become part of us? Why not enable them to receive more than just hearts and warm comments? Why not give their admirers a chance to express their love and appreciation with more than just a tap? Why not make something meaningful out of it? Why not?! And that's how it took off.
We dug ourselves into Instagram searching for suitable artists. By suitable we mean the ones who are obviously talented, to whom their relationship with fans means a lot, who engage in two-way communication and are all about expressing themselves through illustrations. When we first approached them, we basically had nothing to show, only a vision and a lot of passion, a belief that we will somehow make it work. And then the YES emails started dripping in: first Skaiste, then Nina, Maja… All of these great people were piling up. We were amazed!
We rolled up our sleeves and started working. We paid attention to every single detail with the goal to make Lake an enjoyable and personal experience. Everything in the app is made with the end user in mind. From our onboarding, to well-thought animations, the colors that we've chosen for the color wheel, the way the wheel works, selection of tools… All of it. What we also kept in mind was that Lake is never going to be a finished product. It is built for continuous growth.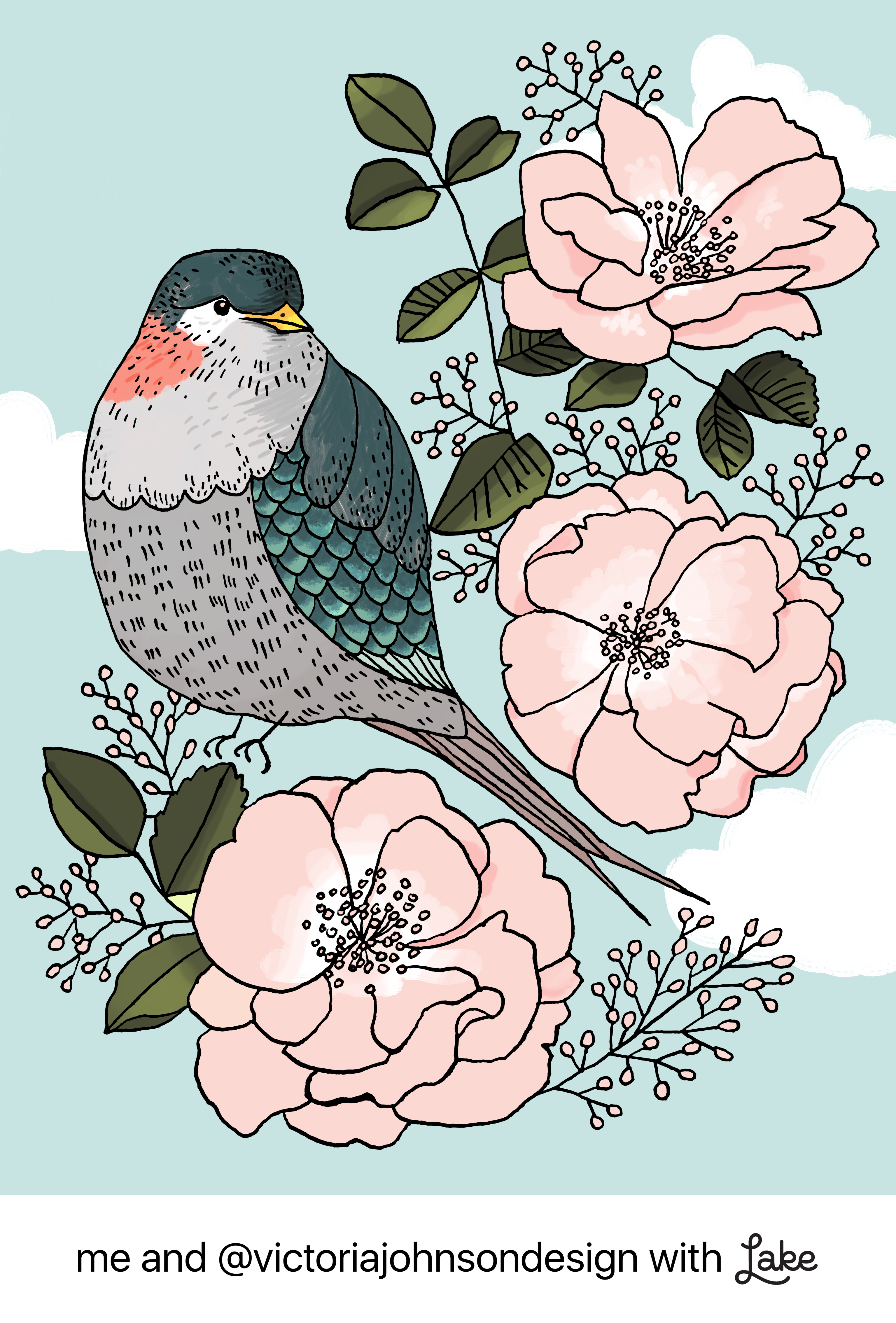 Bringing it to the App Store
Besides working on content, design, flawless functioning, monetization model, we were also determined to get Apple's attention. We got through to them, they liked what we had to show, and were interested to stay in the loop. This was quite stimulating after a year in the bubble, when you are sometimes unsure if what you are doing makes any sense at all. Hopefully, this is a beginning of a beautiful friendship.
Our vision is to evolve into a marketplace for illustrators, a go-to place when you'd be in search of a quality coloring book and know your money was put to good use. We also have many fun collaborations in mind and are determined to bring them to life.
At this time future seems clear: upwards and onwards!