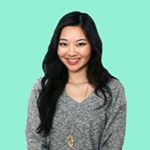 Laura Uy
"Celebrate the little victories"
Meet Laura. A girl who said YES! before we had anything but an idea. She believed in Lake's cause, Lake's vision and simply went with her gut feeling. We're genuinely happy to have this gentle, kind soul onboard! Her fans best know Laura for her lovely whimsical animals, amusing vegetable puns, and some pretty badass murals in her hometown. Go behind the scenes with the interview below. ❤
For starters, tell us a little bit about your background?
I've lived on the West Coast of Canada my whole life and had a happy childhood full of adventure and mischief. I started drawing at a young age and my parents encouraged me to express my creativity. It was clear early on that my strengths were in visual art and music. Both my parents are piano teachers and my two younger brothers are also designers in different ways, so we're a quirky artistic bunch.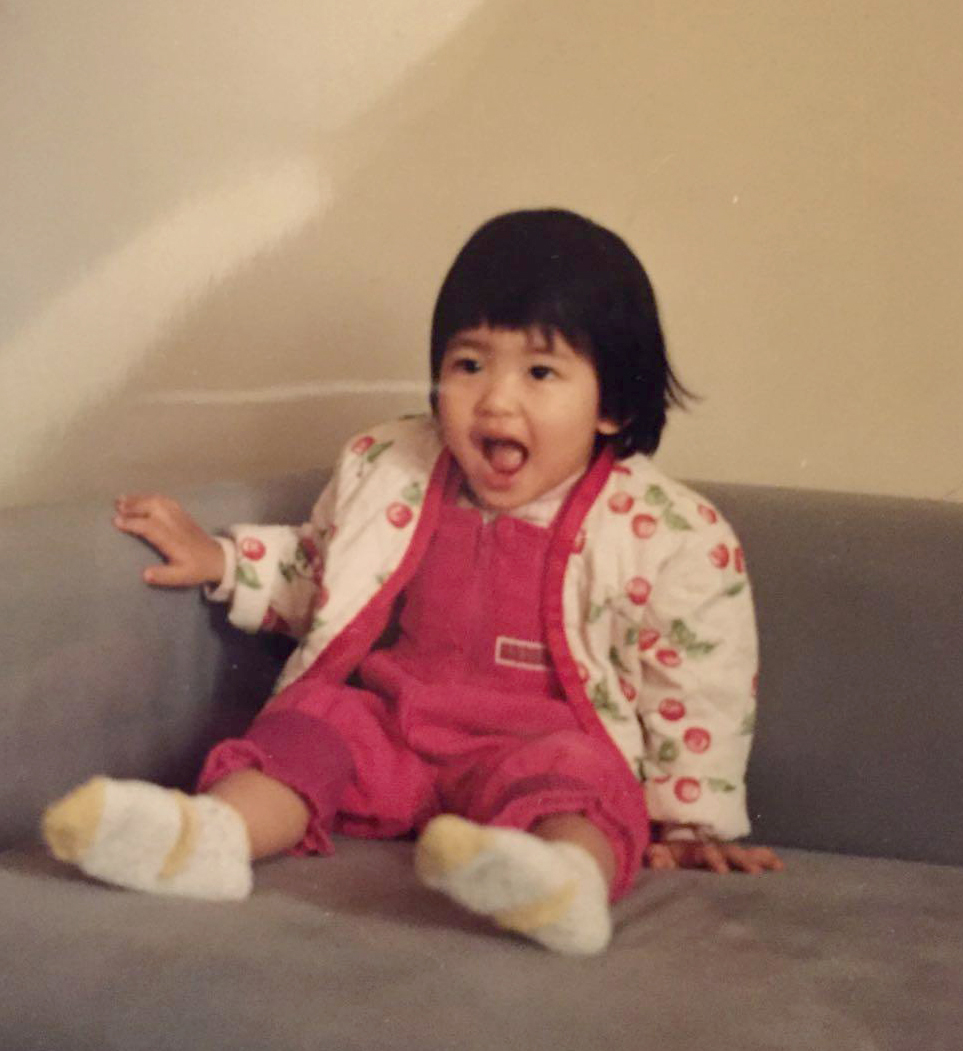 You come from Vancouver, Canada. Is that a good spot to be an artist?
I think Vancouver is a great place to be an artist - our city is surrounded by mountains and natural greenery which inspires a lot of my work. I sell my cards and art prints in various local shops and at craft shows. I feel that there is a growing community of people in Vancouver who are very supportive of small businesses and local artists like myself.
Looking at your artwork, especially the cards, what sticks out the most are the funny food/plant creatures. Ha ha … very clever! :)) Where did that come from?
I love FOOD - especially burgers and ice-cream - so basically, I paint what I love. As a kid, I used to doodle giant burgers terrorizing villages of helpless vegetables all the time, so I've been drawing "food with faces" for a long time. I also like to collect cacti and succulents (although keeping them alive is another issue) so I enjoy illustrating plants and florals as well.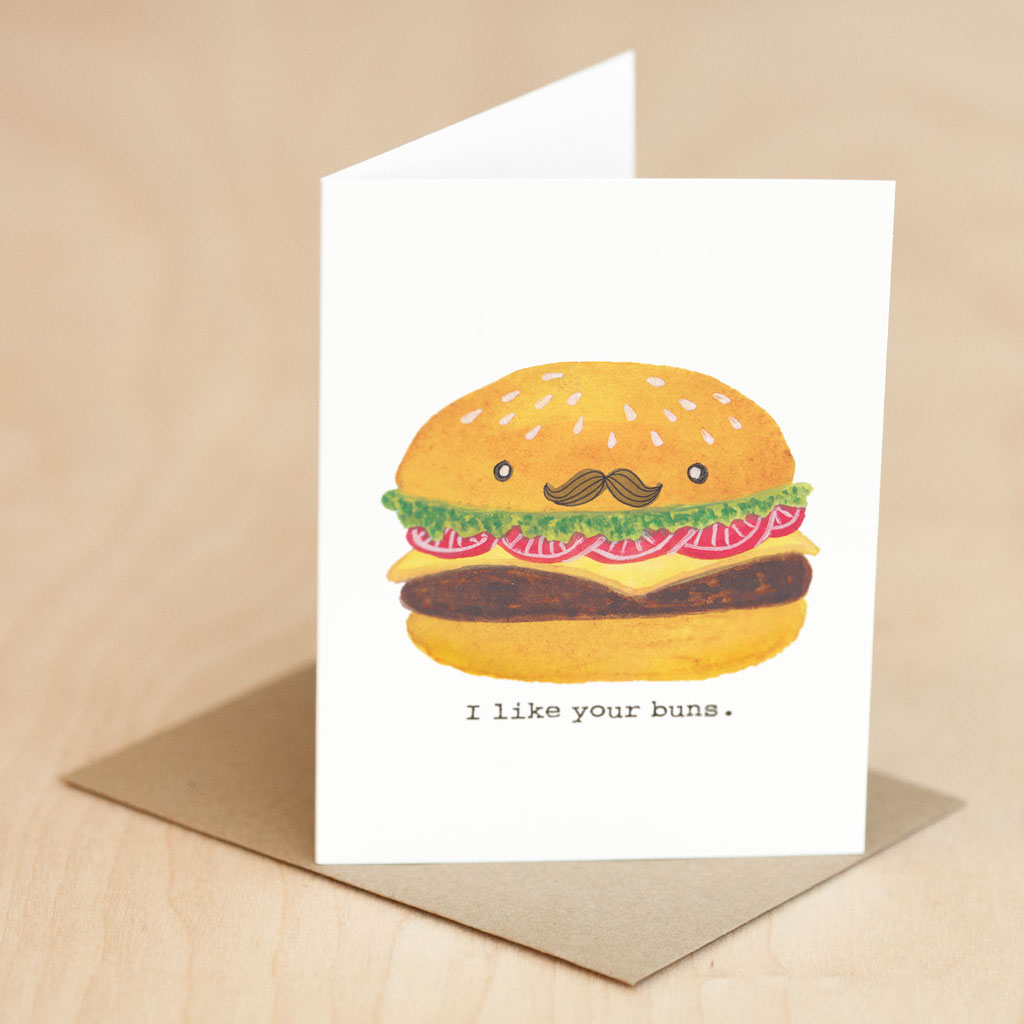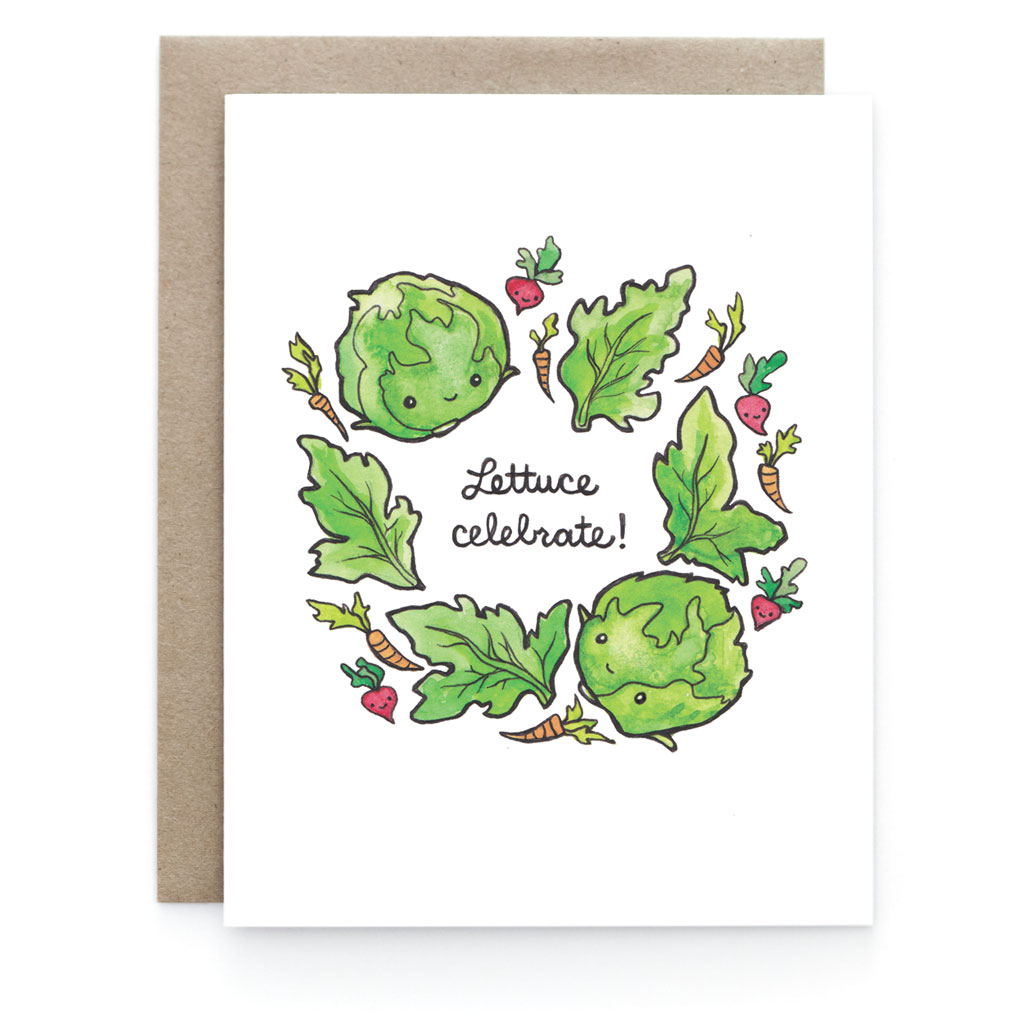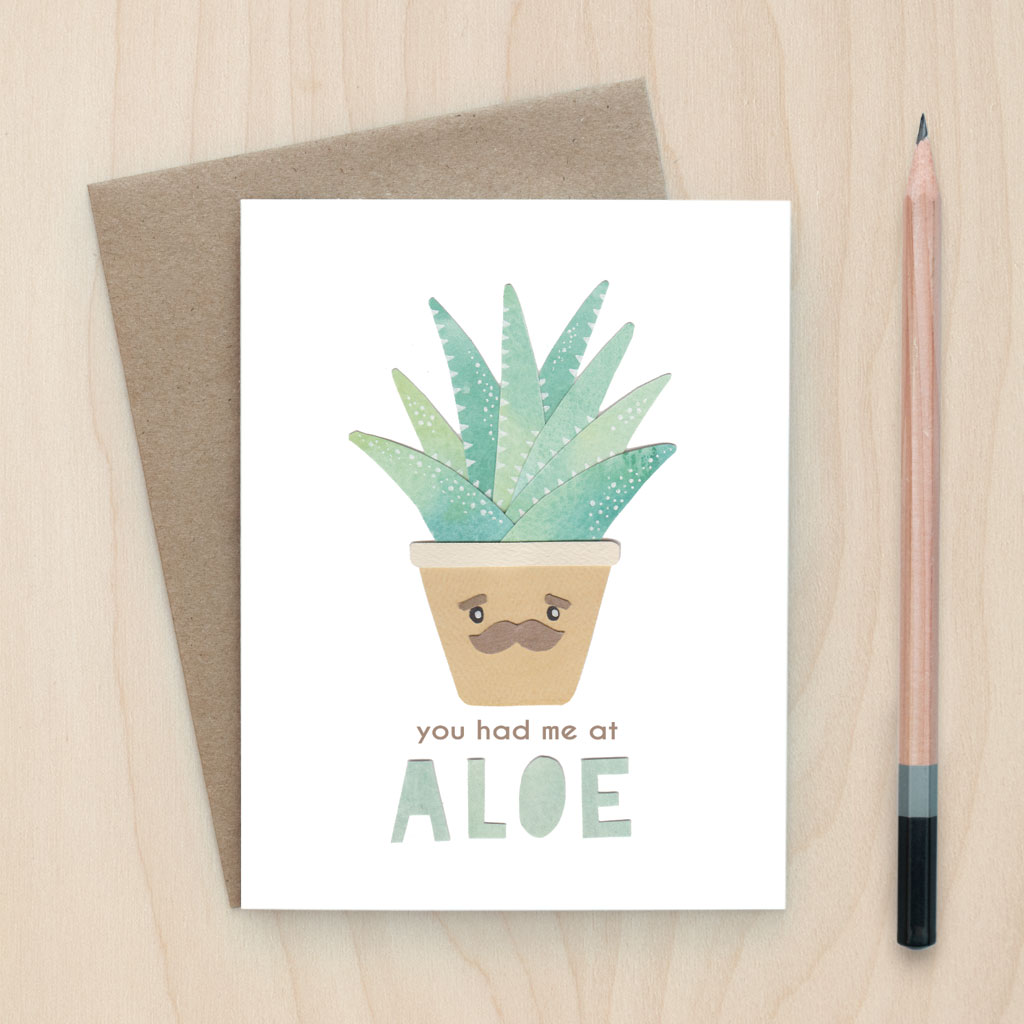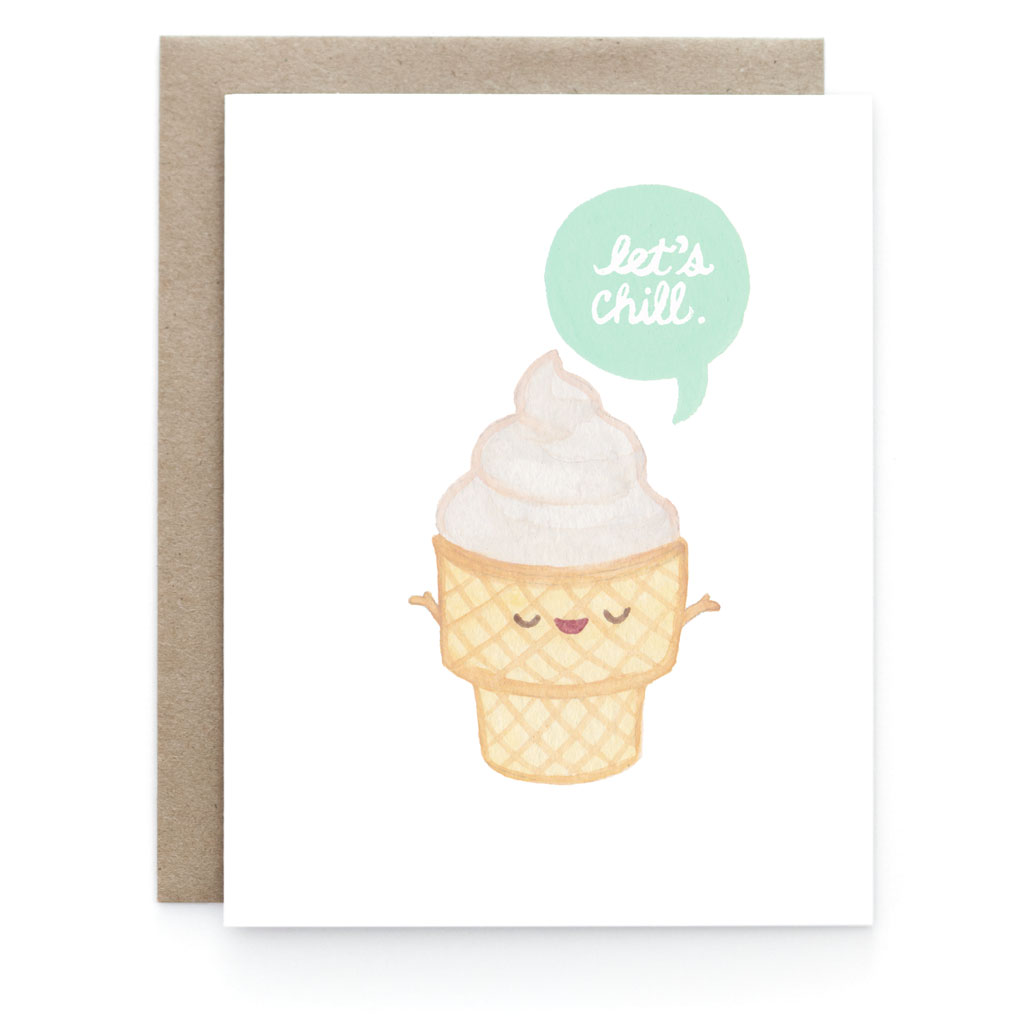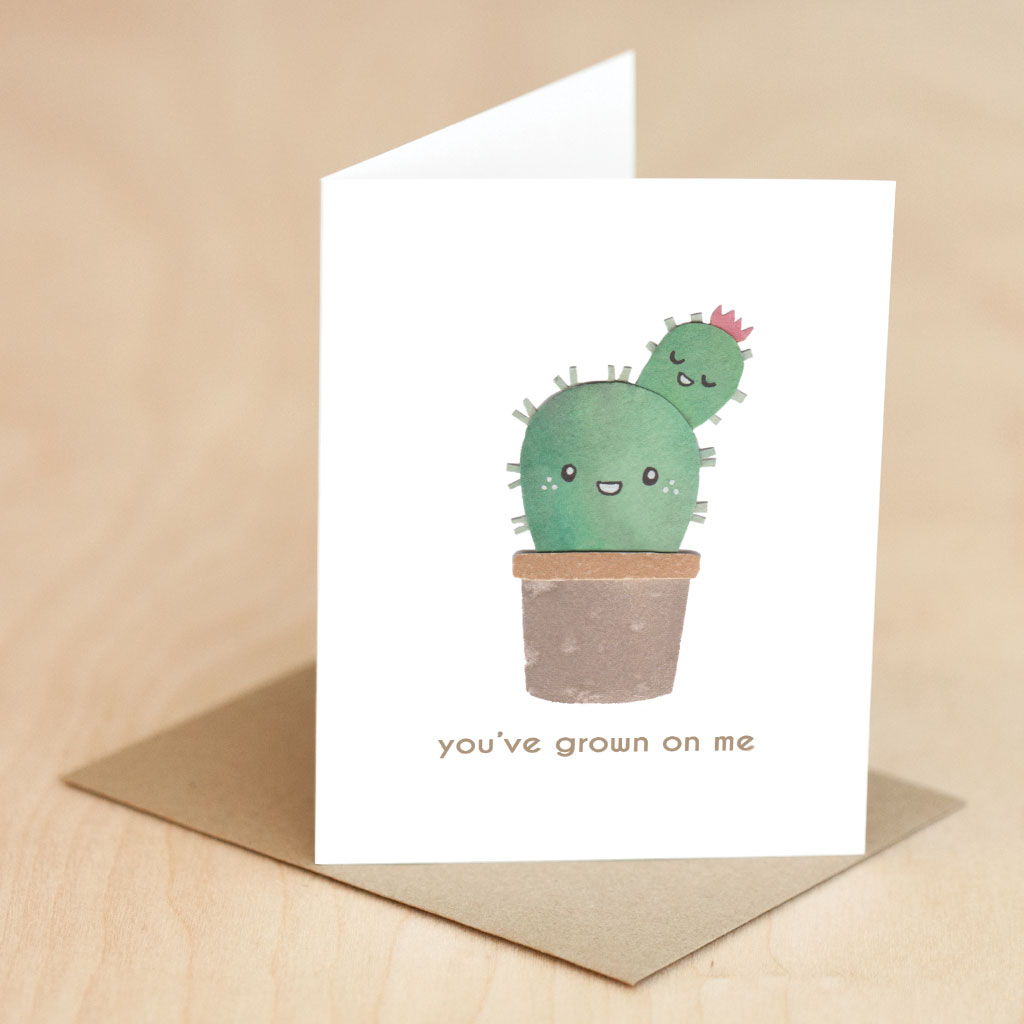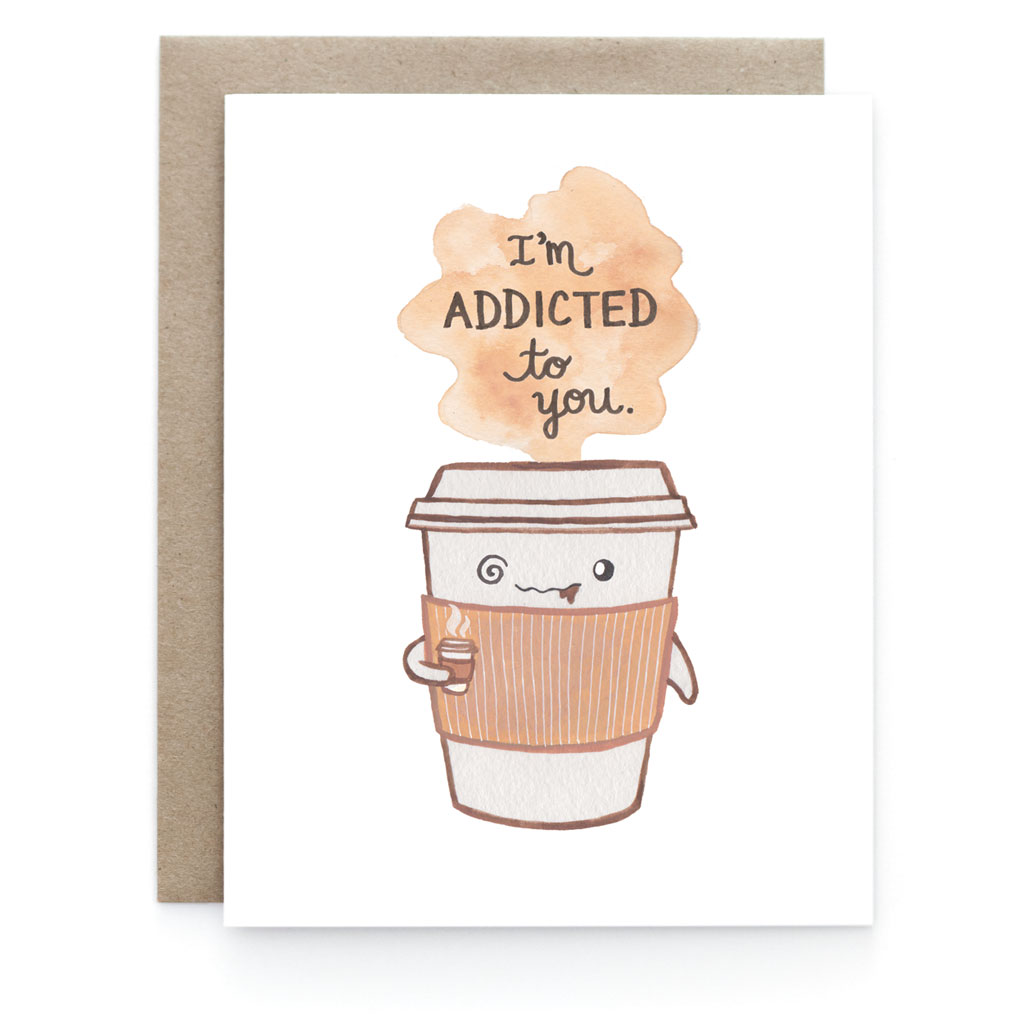 Tell us about your journey towards becoming a full-time artist?
I drew a lot as a young child but in high school, I completely stopped. I think I just got preoccupied with socializing and pursuing other interests. This "drawing drought" continued throughout university. I didn't know what I wanted to do with my life so I got an English literature degree and then a teaching degree (I come from a family of teachers). However, even during my university classes, I would often get super bored and start doodling until my classmates started noticing my knack for drawing. I never thought of pursuing my art though because I thought it was "too late" and I had no professional training. So, I taught English in Asia for one year which made me realize I didn't enjoy teaching at all.
When I came back to Canada I applied to work at an art studio teaching kids and adults how to paint. Ironically, I got the job because of my background in education. Around that time, I bought a set of watercolours and started experimenting at home until painting started becoming my main hobby. I was painting whatever I liked, and creating for myself. After two years at the art studio I felt like I wanted to take a few months off and try to pursue my art. I really had no idea what that meant and didn't have any solid plans. However, I believed that my art had a purpose and I wanted to try and make something out if it.
I made an Instagram account for my art and started posting some of my creations. I began designing greeting cards with my original designs on them. I started getting requests for custom paintings. I devoted myself to creating positive art for others and began developing my artistic style along the way. I did all these things and have been for the past two years to the point where I can now say that I am a full-time artist! It's definitely been a crazy roundabout journey for me but all my life experiences have been valuable and I wouldn't have it any other way!
What are the tasks of a full-time artist that you weren't aware of before?
There are a lot more business / administrative duties involved than I had ever imagined. Math was always my worst subject in school and since I've become a full-time artist, I've had to manage all my business expenses and do my own taxes (which takes me forever). Not fun, but I've learned to deal with it. =)
"If you focus on one big goal it may seem super overwhelming. But if you break it down into small daily goals, the entire project will seem more manageable."
Coming up with the right name for one's business can be quite a project of its own. How did you decide on yours?
Many of my greeting cards feature punny phrases that I think of myself. The name of my company is no different. "Art + Soul" is a play on words of "heart and soul". I put everything into my art and I wanted my company name to reflect that.
You took part in "Keys to the streets" - an amazing project that is bringing free, bright pianos to Vancouver's public spaces. What a great idea to bring art and joy to the streets! How does the whole thing work?
"Keys to the Streets" is a great project that showcases the work of artists from all walks of life. Some are professional artists and others are art therapists or people who desire to give back to the community through art. In the summertime, the pianos are placed in different locations around Vancouver for the public to play and interact with. The one I painted is currently in a community garden where it gets covered at night to prevent the piano from weather damage. "Keys to the Streets" will also host free outdoor concerts where they will invite local musicians to play on the pianos and showcase their talent. Growing up with BOTH of my parents being piano teachers, music is very much a part of me, so I was happy to contribute to a creative project that celebrates both music and visual art!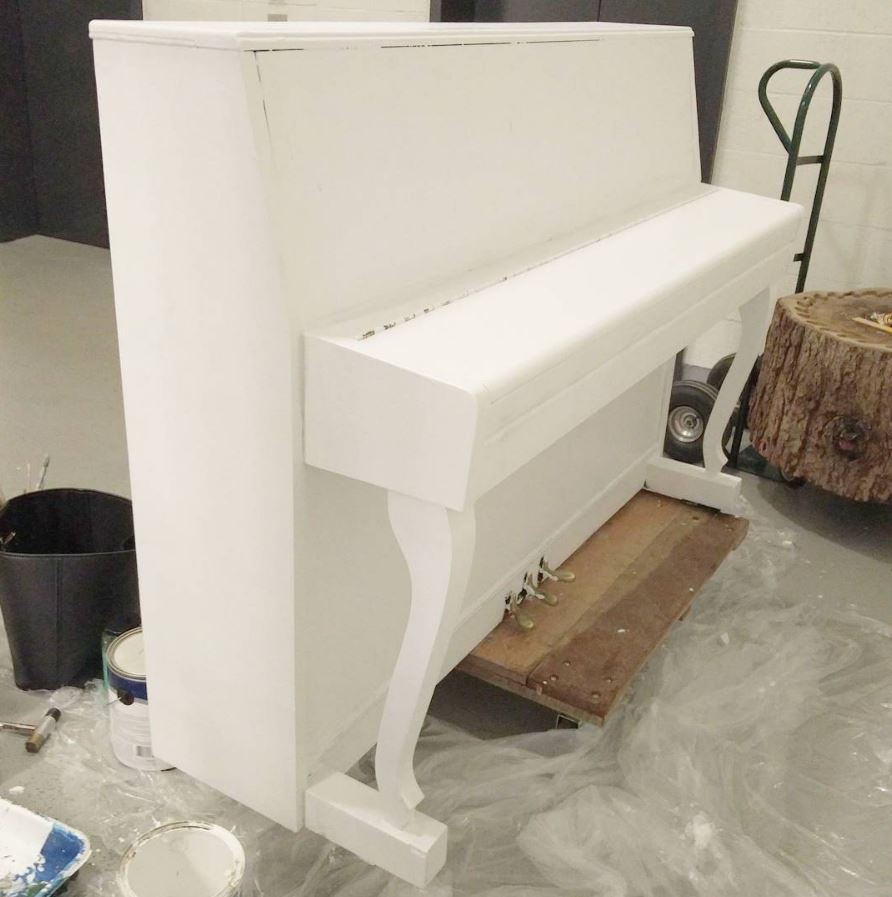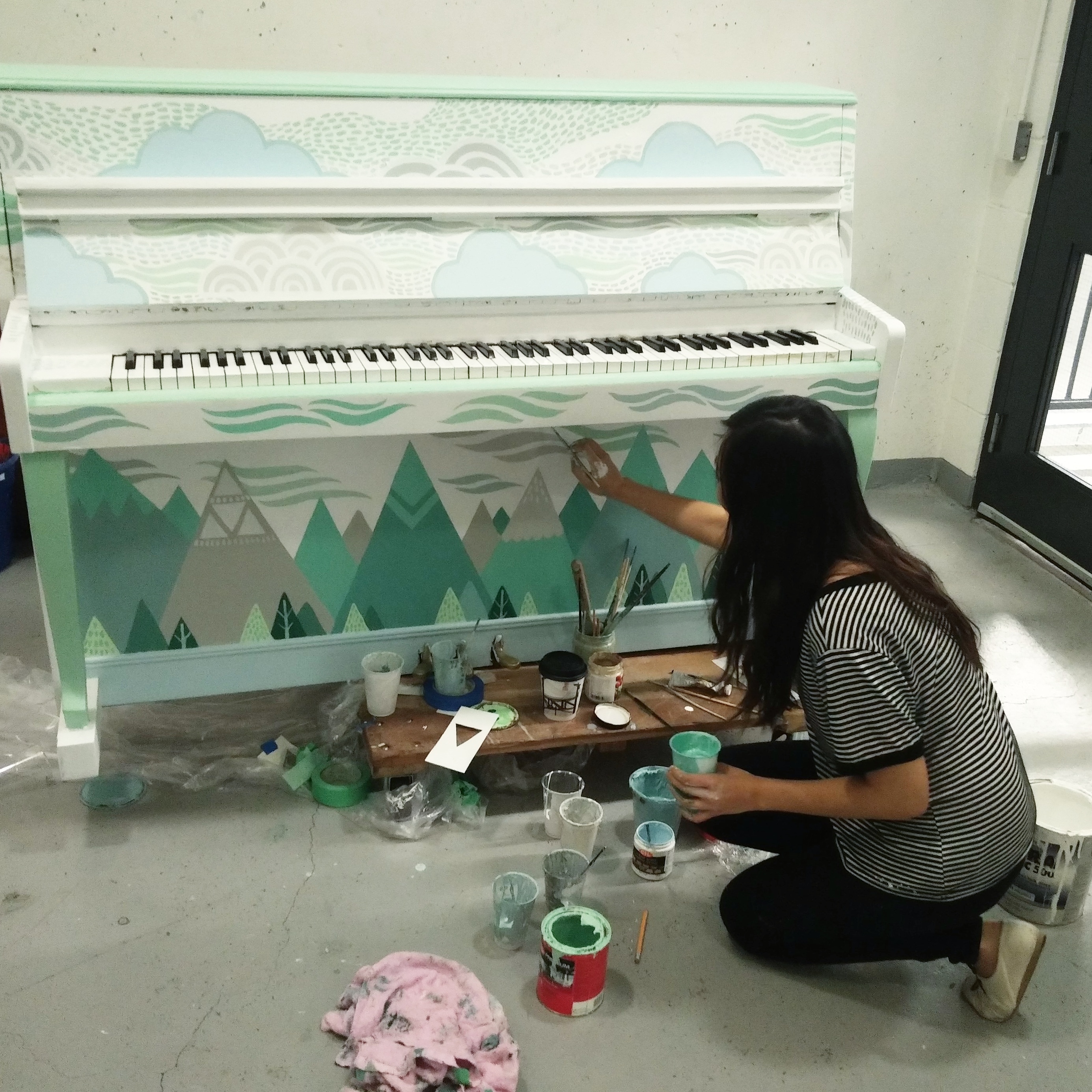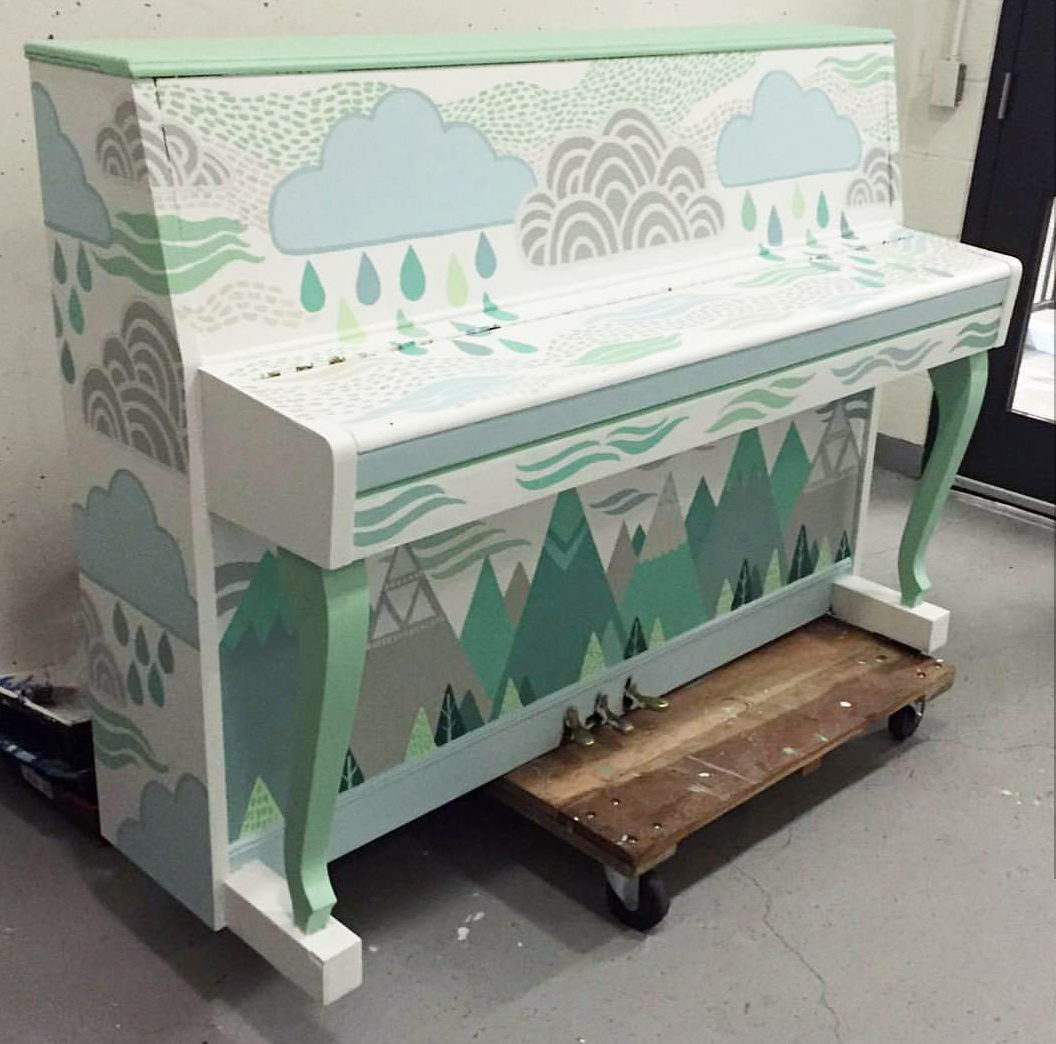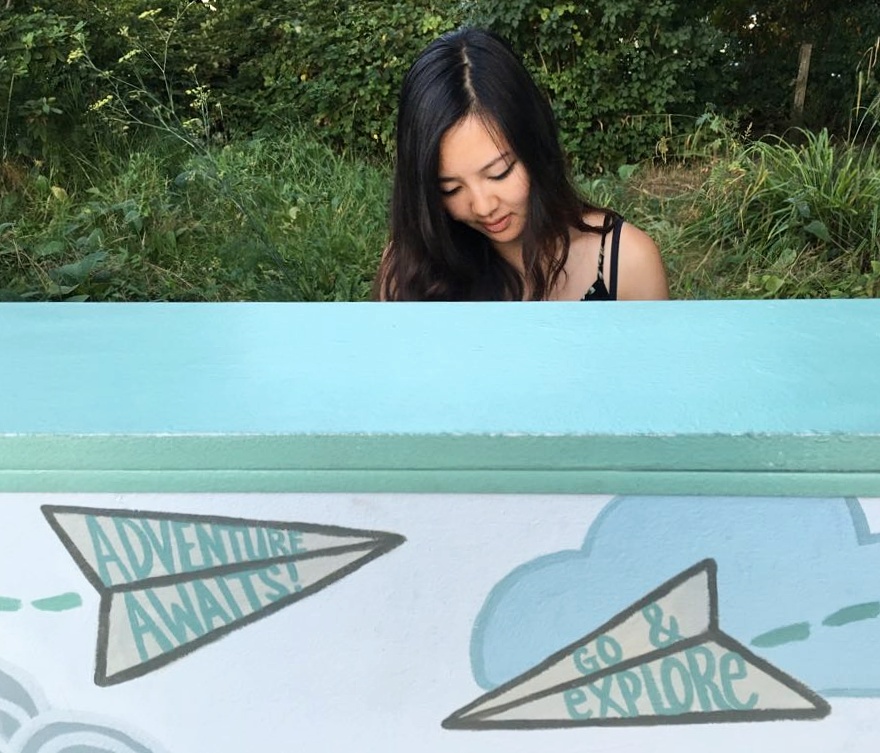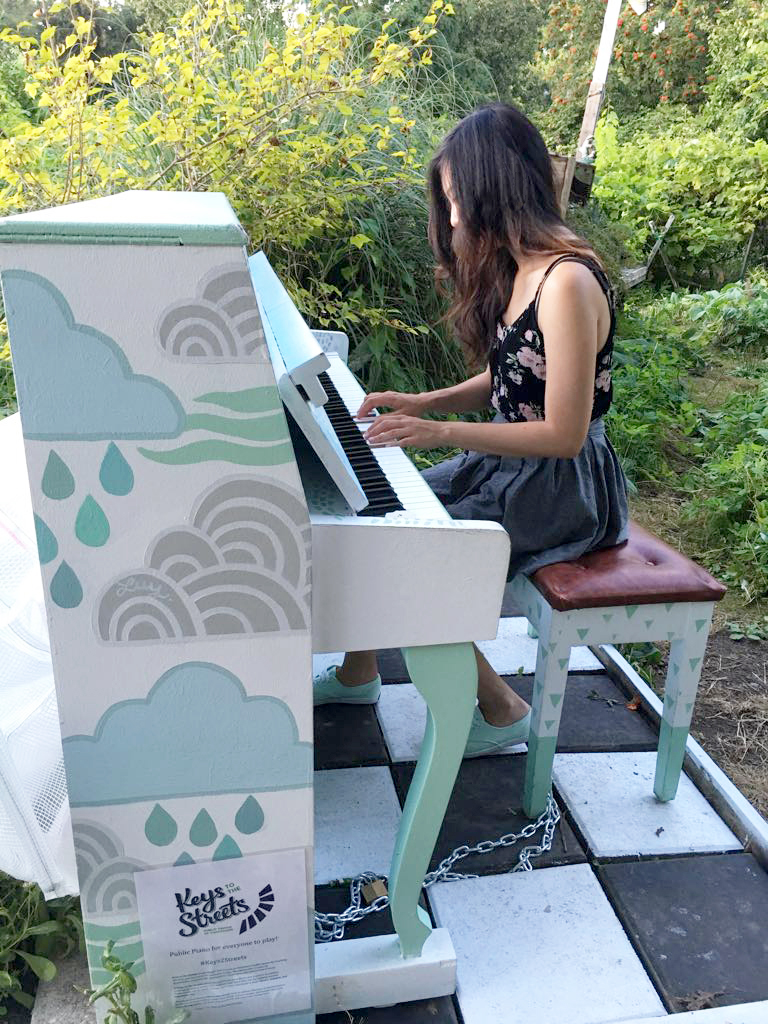 You make all sorts of collaboration in your local community. From lovely chalkboard signages to adding a spice of life to various public walls. We can't go without mentioning your murals for children's hospital, which were put in operation rooms. That is absolutely wonderful! How do you get involved in projects like those?
Every project is different - some of them are commissioned (so I get asked to do them) while others I have to apply for (just like any other job, with a resume and interview). For the murals I created for BC Children's Hospital, it was an intensive application process where over 1000+ painters, sculptors, photographers, and other artists applied to design various art pieces and installations for the hospital. I was one of the lucky ones chosen to design murals for three operating rooms and I was so honored to be a part of such an amazing and meaningful project.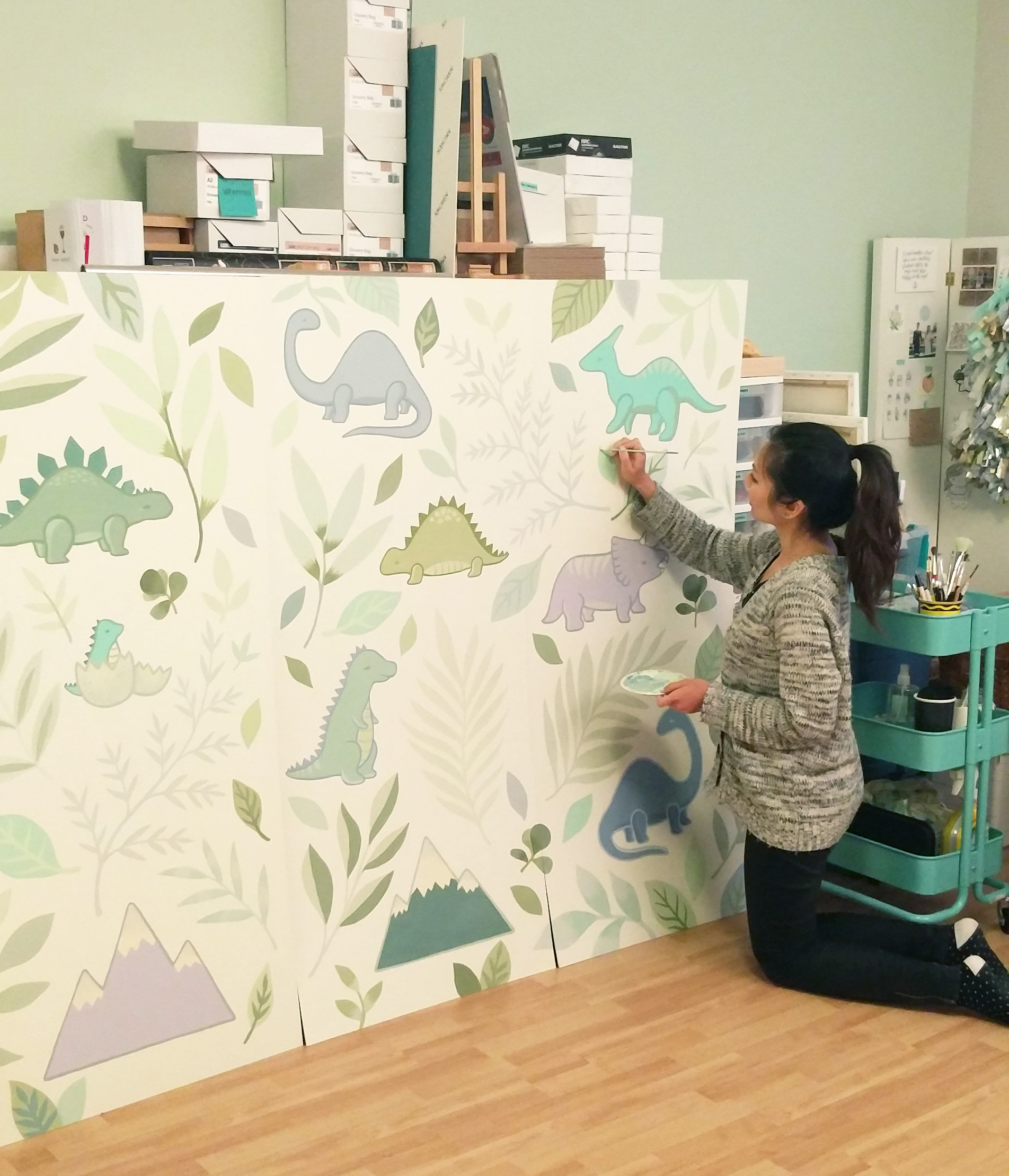 What is your favorite artwork so far?
It's hard to say because often I will create something and then move onto the next project
always looking forward. I guess one of my favorites is Pabu the Spirit Bear (since I like him enough to put on my business card). He is my most popular art print and people really seem to gravitate towards this particular illustration. Maybe it's because he has a magical tummy full of shimmering stars and that he holds the galaxy in his paw.
Do you have a dream project - something that keeps you moving towards it or do you get inspired as you go?
A few years ago, I wanted to write and illustrate a children's book. It's not really my main focus anymore but maybe in the future I might revisit that idea. I think I just take it one day at a time and focus on each project as it comes. I'm always interested in doing more murals though since I love working on a big scale!
Could you name a person/event/piece of art that influenced you the most?
I think I'm influenced the most when I go on vacation and travel to places of natural beauty. Most recently, one of my best friends and I explored Iceland and all the mountains, waterfalls, and glaciers that the country had to offer. It was all so wildly beautiful, and memorable adventures like those really inspire me to create when I come back home.
How important is internet to you and your work?
Even though I have a love / hate relationship with social media, I would have to say that the Internet has been an amazing tool to reach an audience that otherwise would not be able to see my work. It makes my art accessible to people all around the world and allows customers to shop online - I love it when I get to send packages off to faraway places like New Zealand, Sweden, or the Arctic!
How has Instagram influenced your business?
Instagram has really become an outlet for me to showcase and promote my art. What started as a place for me to just post a few personal illustrations has grown into an avenue where I can connect with other artists and people who enjoy my artwork.
We are happy to have you as part of first 10 artists featured on Lake. We've asked everyone and you are no exception - what made you join us, even if we had nothing to show when we first approached you?
Well you guys have made some really successful apps in the past and I thought Lake was an awesome idea! I've had many people ask me about making a coloring book featuring animal / floral illustrations but I thought this would be taking it to the next level with a digital coloring app that has so many cool functions and printable options!
Any final thoughts for all the creative people who also work towards turning their passion into a day job?
Be patient and work hard. If you are passionate about something, use those hours when you're not at your day job to work towards your goals (instead of binge-watching on Netflix). Take it one day at a time. If you focus on one big goal (like writing a children's book) it may seem super overwhelming. But if you break it down into small daily goals (for example: I will set aside one hour today to do some character sketching), the entire project will seem more manageable. Don't get too down on yourself for the days that you stumble, and celebrate the little victories that propel you towards your goals.
Intrigued to know more about Laura? We got you covered.