How many cups of coffee we've had in 2019 and other Lake trivia
2019 was our 3rd year as Lake Coloring. A year full of captivating events - some expected, and some quite unexpected. Along the way, we have crossed paths with many incredible people, created loads of wonderful memories and worked our butts off to grow Lake.
Here's a quick summary: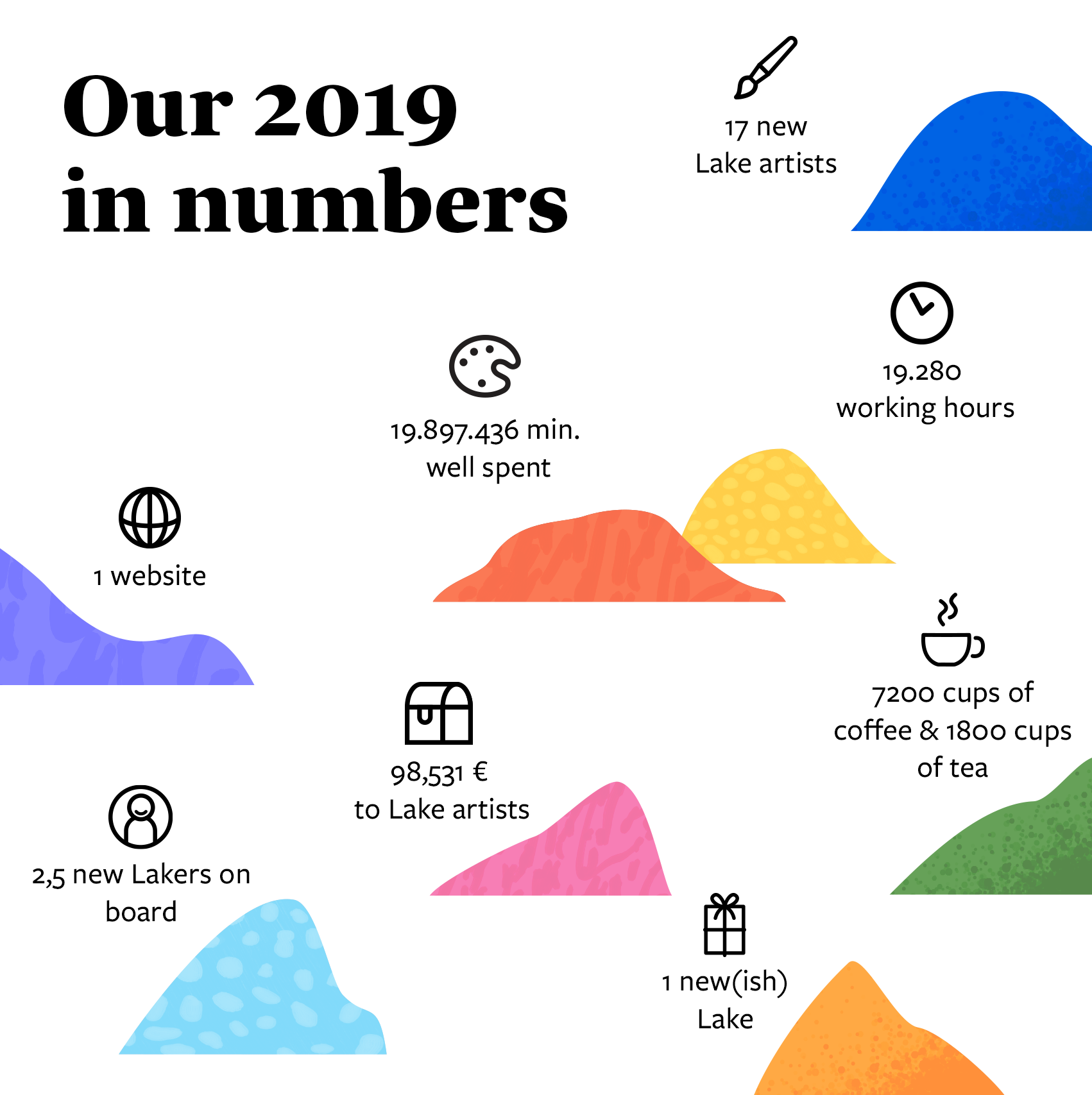 17 new Lake artists 🌎👨‍🎨👩‍🎨
On this day our community consists of 64 artists from 29 countries!
98,531 EUR distributed among Lake artists 💌
This is the amount you helped us raise and send around the world to support our wonderful artist community!
2,5 new Lakers on board 👩🏼‍💻👩🏻‍💻🐣
We started 2019 with 8 people, and ended it with 8,5. In the meantime, we parted ways with 2 members, and welcomed 2 new faces - a loud shout out to all four of them! The 0,5? It's hopefully becoming a 1 in 2020 (Luka, are you reading this??).
19.280 working hours ⚙️🕰️
All that lurve poured right into Lake!
1 new(ish) Lake 💗
In October, we have released the most anticipated update since our launch - the 3.0 version! It comes with 82.864 lines of code.
1 new website 🔍
The launch of our renewed Lake app came with a brand new website (you are welcome to click around)!
19.897.436 minutes well spent ☺️
You have spent nearly 20 million minutes relaxing through coloring.
7200 cups of coffee & 1800 cups of tea ☕🍵
It's what keeps us going. Nuff said.
1 Lake scholarship for aspiring artists 👩‍🎨💸
Our first scholarship was awarded in September 2019 to aspiring young artist Amadeja Keršič!
80 hours spent at the Apple Entrepreneur Camp 🍏👨‍💻👩‍💻
In April, 4 of us went to Cupertino. 2 weeks in the company of 9 women-founded companies and a bunch of super friendly and skilled Apple employees.
Countless wonderful memories ✨
This is something that can't be expressed in numbers, but it's also something that defines our everyday life. It's one of the major reasons that make creating Lake worthwhile.
A big thank-you to all of you who spend your precious time in Lake, to all Lake supporters who make this possible, and to all the artists who make this experience diverse and unique! Here's to many more fab years together! 🥂