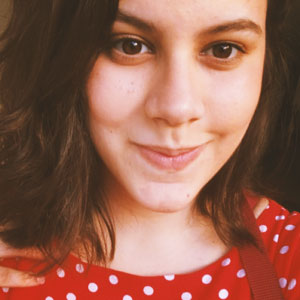 Isadora Zeferino
"Creation for me is an expression of happiness, commitment or passion."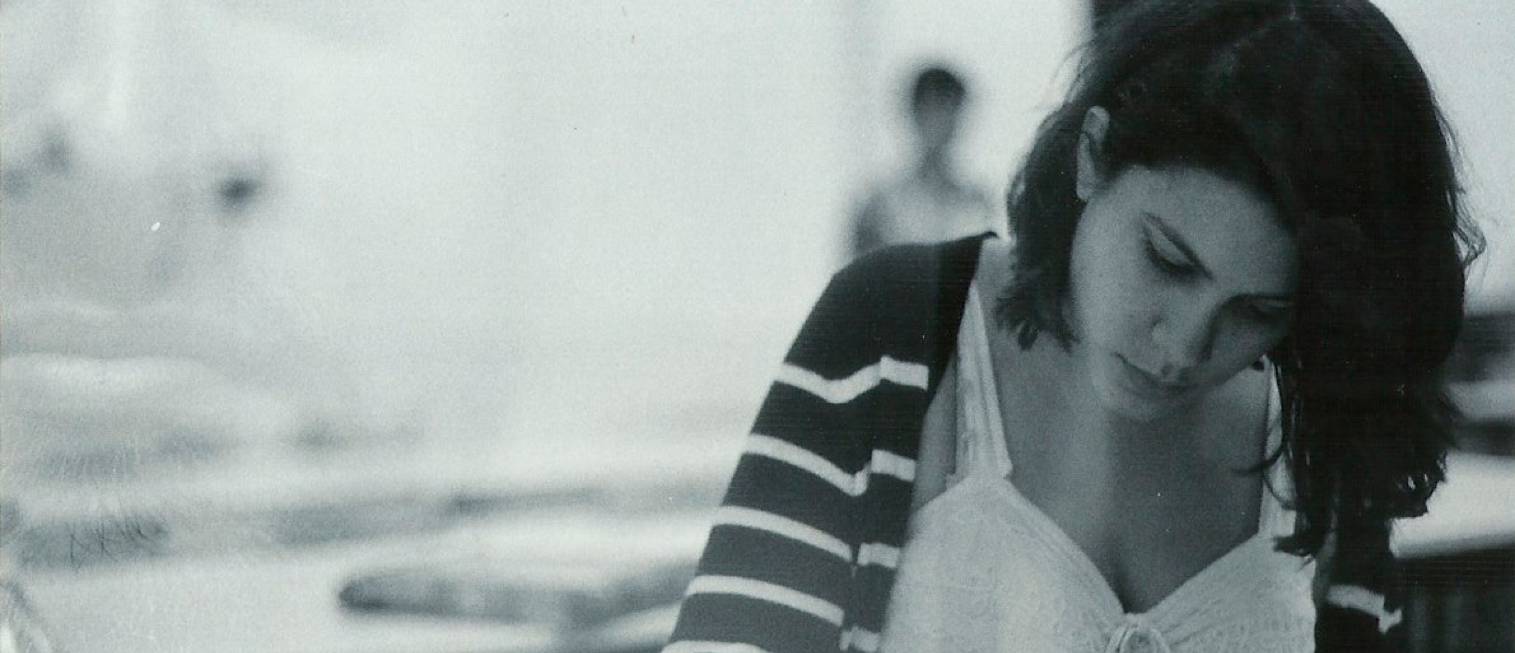 Isadora is a young Brazilian artist born and raised in the stunning city of Rio de Janeiro. But her influences come from everywhere: from current international designers to local art-déco illustrators. This vibrant mix can be seen in her drawings, in which she depicts expressions of happiness, fun, and comfort.
This week, we are launching Lake in Brazilian Portuguese and to celebrate that, we invited Isadora to create her second coloring book for Lake. We are more than enthusiastic about the results: she managed to depict very exciting elements of her culture, such as food, wild animals, landscapes, and unique parties, like Festas Juninas and the world-known Carnaval. What we liked the most about this book is that she depicted a very diverse view of Brazil without falling into stereotypes – a risk everyone takes when portraying a country.
In this interview, she talks about her creative influences, her close relationship with books, and how Lake became part of her life. We were really flattered to hear her kind words.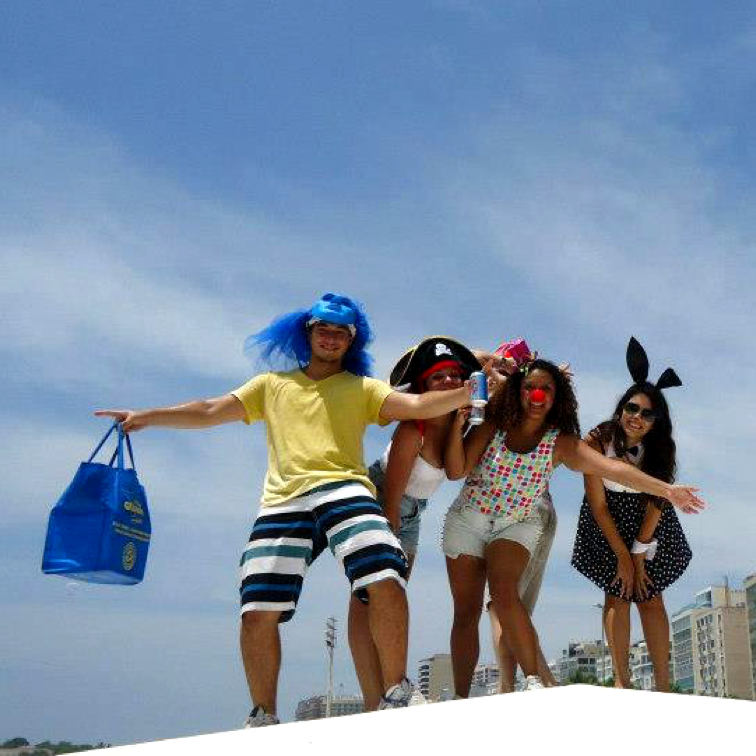 How did you become an illustrator?
Little by little, one step at a time! I started drawing as a hobby, then I took a risk by accepting an internship in an animation studio, and then I became a freelancer! It seems like a straight and quick path, but the truth is that I was very careful each time I made a big change!
I usually say that I didn't know there was a perfect job for me, so I created it! I had a lot of help and encouragement from social networks. I started off treating them as a trivial thing, but now they are definitely one of the reasons why I became an established illustrator.
Of course, in addition to having followers on online platforms, I love what I do and practice a lot every day, but in reality, none of that really helps if your work is not seen by the right people, and in that respect, I have been very lucky with the exposure that the art I create has received.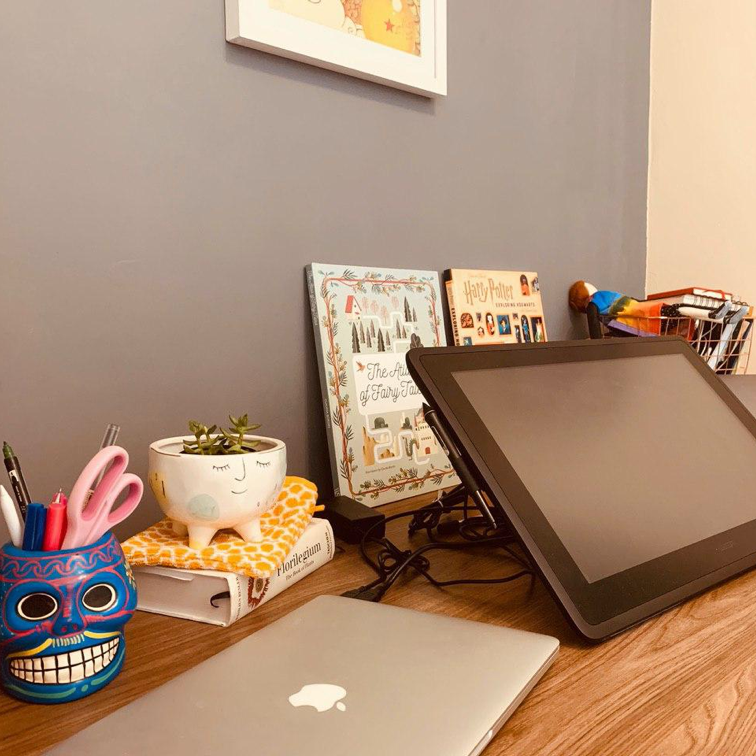 Out of all your works that are on Lake, which is your favorite?
My first coloring book has a theme and has pairs in which the main character is sometimes smaller and sometimes larger than the surrounding elements. My favorites are definitely the ones with flowers, since these are one of the things I love to draw!
Your next pack at Lake comprises several aspects of Brazilian culture. How much does Brazil influence your art?
To be honest, when I was still growing as an artist, I was heavily influenced by multinationals and big names from outside my country. So it was shocking, having been in my line of work for a while, to rediscover great artists like J. Carlos [a Brazilian artist from the first half of the 20th century strongly influenced by art-déco] and to be able to turn my gaze a little to what was produced here. I believe that Brazilians diminish themselves a little in this aspect, which makes no sense. We live in a country rich in culture and history! From now on, I want to try to depict more things related to our daily life. For someone who loves fauna and flora, we are talking about one of the most biodiverse places in the world! I want to emphasize and respect all the different possibilities that his vast territory has to offer, and designing this book was a great way to do that.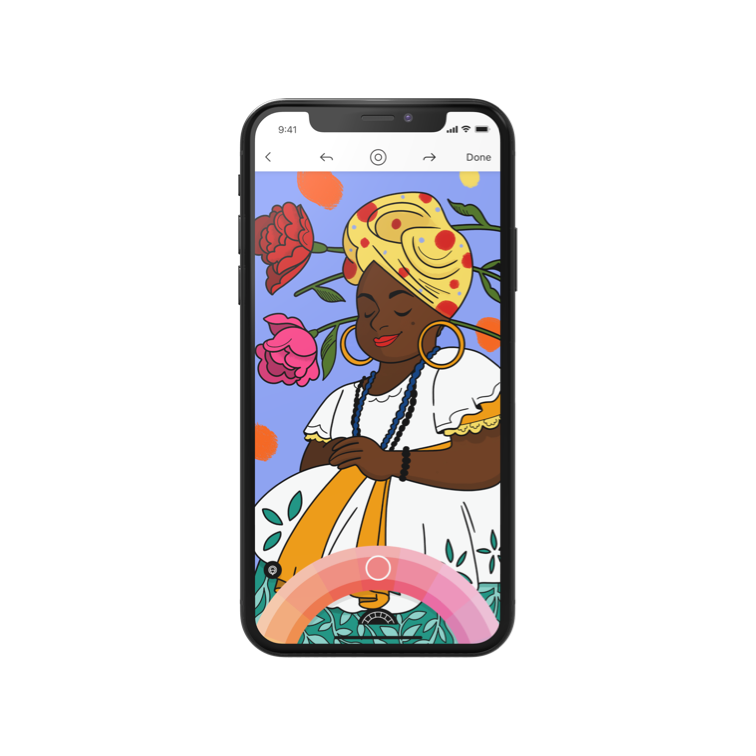 Your work is known for its vibrant and fun colors. What is it like for you to have your illustrations in a coloring app where people can let their imagination run free through your drawings?
That's a great question! I feel that a lot of the magic of my work only surfaces when I apply colors. So to create the drawings for Lake, I had to think a lot about how they would work with just lines! It's definitely a different experience, but it's fun to offer someone else the opportunity to bring to life what I have made available there.
How did you find out about Lake?
I saw some of the artists I love talking about it: Sibylline and Jiji Knight! And since they are not just artists whose love I work, but also people who I believe run their careers very well, I was super interested in knowing more!
How does Lake impact your career? Has your participation helped you promote your other works as an illustrator? Does the money help you with your household budget, etc.?
Creating a coloring book for Lake was a lot of fun. I have always wanted to be as dynamic as possible with what I am able to do. Considering the passive income model and the payment in advance, it is a very interesting way to extend the lifespan of a job. I wish that more companies were this interested in the financial life of an artist and fostered this sense of being in a partnership instead of just having a service provider.
As an illustrator, would you recommend Lake to other colleagues? What professional profile do you believe would benefit from the platform?
I think Lake is a great tool for both non-artists and artists in terms of learning and leisure. I believe that it not only offers a peaceful moment to paint and relax but also creates a lack of obligation to worry about certain things parts of the design (like creation and super correct lines), so you can focus a little bit only on the color and the atmosphere you want to create!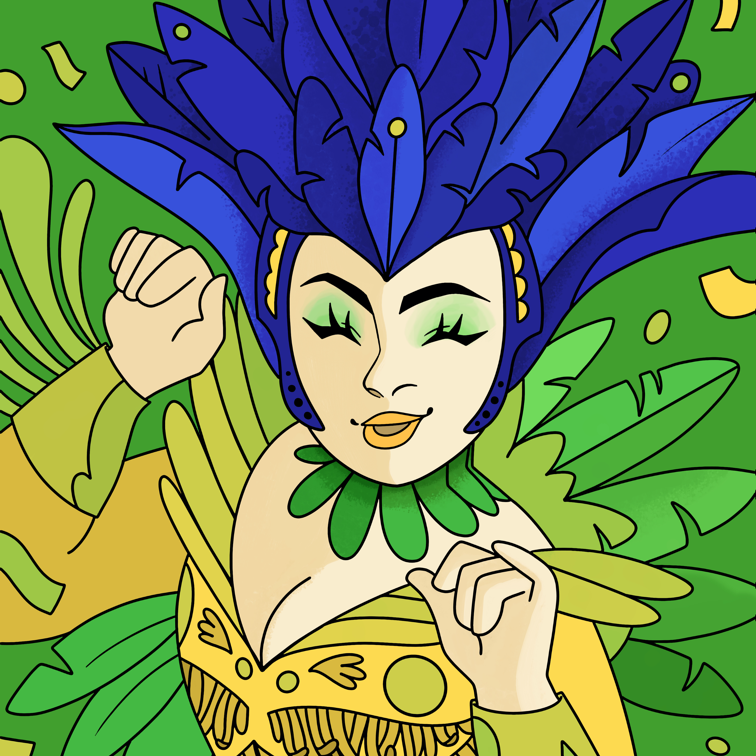 What is your creative process? Do you plan the art before you start or let your imagination run free? Tell us how your illustrations come to life.
It depends a lot! But my favorite way to create is when I have a simple idea and I can immediately pull out my sketchbook and start exploring… I think that puts me in the middle, right? Because letting the imagination run free is great, but I also find it interesting to have a basis before you start wandering and coming with options.
What are your artistic influences? Who are the artists you admire the most?
I have many and a new one appears every week! This month, I visited the Prado Museum in Spain and I became a little obsessed with the paintings of Pedro Pablo Rubens and Hieronymus Bosch! I think I prefer to be like that: always changing inspirations and influences precisely because it allows me to focus on something different all the time! When I was younger and studying only one person at a time, I ended up losing some of the individuality of my work.
What is the difference between illustrating for conventional media (such as books, posters, etc.) and for a digital platform that relies on user interaction?
The difference is that your client is not necessarily paying you when you post an illustration on a digital platform. The value of that drawing is in things we can't control. For example:
What the conversion into numbers on your social networks is.
How people (not necessarily art directors) respond to your work.
What you learned from that job.
Is that work a representation of what you want to work on in the future? Does it fit your portfolio?
So it gets a little more stressful, I think! Basically, it's supposed to be fun and light, but I think the fact that, regardless of what happens, that it is your job and your livelihood, creates inherent stress that you have to overcome and make work in your favor!
You studied biomedicine and have already mentioned that you enjoyed biology classes the most, as they were your opportunity to draw. How much does this unusual relationship influence your style today?
I don't think it influences my style much. I considered working with scientific illustration when I was having doubts as to how I would go on if I didn't like college. But I think abstraction and simplicity are one of the most beautiful things in my style, so I don't see how I could work for the academic world!
But I'm still super curious about issues related to science, biology, and chemistry. There are things you love and this love makes you think that you need to do them for longer or deepen your knowledge. But this is not always true. I prefer to see the world of biomedicine from the outside! At the end of the day, epidemiology was a hobby and drawing was my true occupation, contrary to what I imagined by the end of high school!
Your relationship with books is very present in your art. If you could illustrate any book in the world, which one would it be?
My god, what a difficult question! There are many books that I love but I have to say that I would love to illustrate Harry Potter, as corny as it sounds! As this is a very complicated thing, the following options would work, since they were part of my training: The Princess Diaries, Stardust, Howl's Moving Castle, and anything from Disney!
Your work portrays happy situations and strong people. How do you cope with a bad day? Do you vent your sad feelings through other arts?
I have to tell you the truth: I usually end up eating sweets! On difficult days, I also like to exercise some self-indulgence, such as demanding less productivity from myself and trying to do things I like, like going out with friends and rereading books that calm me down! I'm not a big fan of venting my feelings through my illustrations, so I most likely won't even get anywhere near paper when I'm upset! Creation for me is an expression of happiness, commitment or passion.
You have more than 200,000 followers on Instagram. Does your relationship with the public influence your art in any way? If so, how?
Quite a lot. As it was where I kind of "grew up" and was created, it has always been a great lever of my desire to produce and share! Having this many people keeping an eye on what I do keeps me inspired and responsible for creating content. In the end, it's a very special exchange: those who follow my work encourage me to continue and I try to create quality pieces that keep this virtuous circle going. I think I've already had moments where I cultivated the wrong motivations or dealt with this pressure badly, but I believe that with each passing year I try to deal with it in a more mature way! We are all people, we are all adults, I am very flattered that they like and empathize with my work. I am grateful for the attention, but I am also aware that it is a job like any other. The glamor is artificial.
If you'd like to say anything more about Lake, we'd love to hear it! :-)
As a person who did the "basic cycle" of a design degree, I am IN LOVE with the user experience that Lake creates. It is a beautiful app to use! On top of that, there is a team that is very concerned with giving the best to its community. It is a great honor to be part of Lake's collection.