Lake
| 14. Feb, 2020 - 3 min read
Olá, Brazilian-Portuguese!
We are super happy to announce that a new language has been added to Lake! From now on, we also speak fluent Brazilian-Portuguese. It is the sixth most natively spoken language in the world and has an estimated 210 million speakers. Quite the crowd, right?
It is a fact that our mother tongue shapes our thoughts and emotions immensely. First and foremost, we think and feel in our own language. That is why we aim to provide our users with the possibility to use Lake in their languages to get the most out of it and also to bring it closer to those who don't speak English. In the upcoming weeks, we'll add three more languages; French, Japanese, and Russian and we won't stop there— we want to bring the mindful coloring experience to even more parts of this dazzling world.
Of course, we mustn't forget about the most vital part of our multi-lingual mission—our dedicated and skilled translators, who are putting lots of love and knowledge into translating Lake's story into a bunch of new languages. To give them the spotlight they deserve, we've decided to honor them with some special attention.
So, let's meet the brain behind our Brazilian-Portuguese operation. Edison Veiga was born in a Brazilian city called Taquarituba. He got his first journalist experience as a teenager and later pursued his passion for writing at Journalism school. After graduation, he moved to São Paulo. He started working at some pretty neat places, which allowed him to write about all sorts of interesting subjects, like architecture, food, culture, museum, history, etc.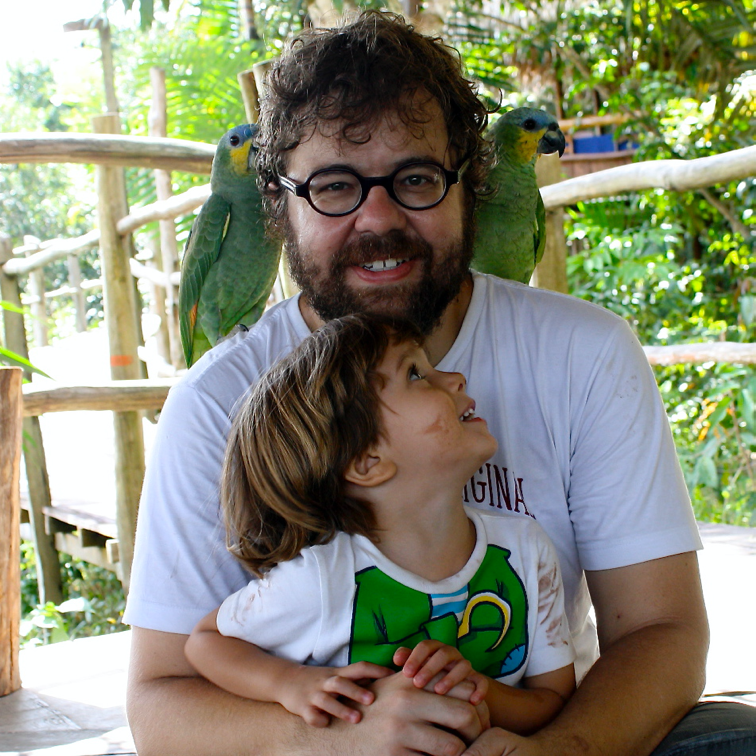 "The process of translating Lake into Portuguese was very fun. It was nice to adjust the copy to our reality, but it also felt like a great responsibility. I'll give you an example: at some point in the English version, we compare the price of the subscription to the price of a latte. But it turns out that lattes in Brazil are not as appealing as coffees. So I changed the latte for a cup of coffee (a choice I would also make in real life hahaha). I also love puns and had lots of fun creating new ones that could work in Portuguese. When talking about Easter eggs, I wrote "Está na hora de caprichar no trabalho e ser ovacionado!" I felt like I was hiding my own Easter egg in the app (double pun!)." - Edison on translating Lake
Two years ago, curiosity and an endless desire to learn new things took him and his family to Europe. They are now living in Bled, a fairytale-like town in Slovenia, and that's how our paths crossed. Edison is currently working as a freelancer, writing for many international magazines, websites, and newspapers. Being the prolific creator that he is, he has already published seven books and has a couple more on their way.
"I like Lake because it allows a different use of my cell phone. We tend to use it as a device for work, social media, texting, and many other stressful or even meaningless activities. On the other hand, Lake feels like taking a pause from the "automatic mode". And it's also one of the few apps I allow my 6-year-old to use." - Edison on Lake
He undertook his work with great zeal, responsibility, and subtle understanding of what Lake is, which we really appreciate. We have no doubt that Brazilian-Portuguese users will enjoy it a great deal!
Edison, agradecemos por ter feito um trabalho tão incrível e por fazer parte de nossa história. ❤